At iDental in Okotoks, our general dentist uses natural-looking dental bridges to replace missing teeth and help restore your smile.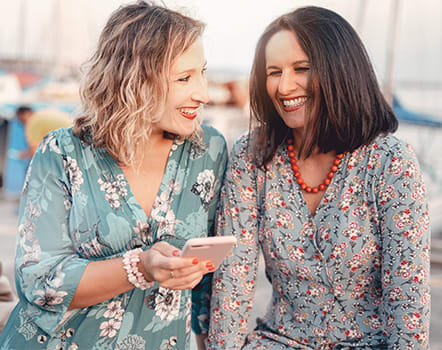 Fixed Porcelain Bridges in Okotoks
A dental bridge is a fixed (non-removable) dental appliance. It literally 'bridges' a gap of missing teeth in your mouth to help to restore your smile and sustain your long-term oral health. 
Porcelain fixed bridges are most popular because they resemble your natural teeth. This type of bridge consists of two dental crowns that go over two anchoring teeth (abutment teeth) and are attached to pontics (artificial teeth), filling the gap created by one or more missing teeth.
Benefits of Bridges
A dental bridge can help to restore the natural contour of your teeth, as well as the bite between your upper and lower teeth. They are custom-made for each patient and barely noticeable. 
By filling in a gap in your teeth with a bridge, your dentist will also help prevent your other teeth from shifting around and causing future dental issues, like gum disease.
Dental bridges are highly durable and will last many years, however they may need replacement or need to be re-cemented due to normal wear.
The Bridge Procedure
Placing a dental bridge usually requires two dental appointments. Your dentist will begin by recontouring the teeth and taking impressions. They will then provide you with a temporary bridge to wear until your custom bridge is ready. 
At your next visit, your dentist will remove the temporary bridge. They will fit your new bridge into place by permanently bonding it to existing natural teeth or a tooth replacement.
You will receive care instructions at the conclusion of your treatment. Proper brushing, flossing and regular dental visits will aid in the life of your new permanent bridge.